Georgia Sentinel Landscape
About
The Georgia Sentinel Landscape is home to several of the nation's most important military installations and ranges, including Fort Benning, Fort Stewart, Hunter Army Airfield, Townsend Bombing Range, Fort Gordon, Robins Air Force Base, Marine Corps Logistics Base-Albany, Moody Air Force Base and Naval Submarine Base Kings Base. Together, these defense facilities provide heavy armor maneuver areas, unimpeded air-to-ground ranges, live fire training facilities, and low-level flight routes to service men and women. The military accounts for a significant portion of the state's economy, with an annual economic impact of over $20 billion according to the Georgia Department of Economic Development.
The Georgia Sentinel Landscape also supports a high concentration of prime timber land, as well as large swaths of longleaf pine forests—an exceptionally diverse ecosystem that provides habitat to 29 imperiled species. Georgia Sentinel Landscape partners are committed to strengthening military readiness by preserving longleaf pine forests, supporting important agricultural communities, promoting coastal resiliency, and improving water quality.
Interactive Landscape Map
Total Funding by Partner
Partner Funding Through Fiscal Year 2018 In Millions

| | | |
| --- | --- | --- |
| USDA | $10.40M | $12.50M |
| DoD | $3.50M | $10.10M |
| DOI | $0.00M | $0.10M |
| State | $15.80M | $3.40M |
| Private | $7.60M | $24.00M |
Total Acres Protected and Enrolled
| | |
| --- | --- |
| Acres Protected | 79566.18 |
| Acres Enrolled | 171794.38 |
Partnership Highlights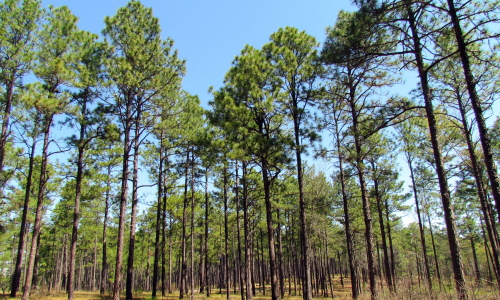 Protecting the Gopher Tortoise Through Longleaf Pine Restoration
Despite once extending across the Southeast, only three percent of the original 90 million acres of longleaf pine forests remain today. The degradation of the longleaf pine threatens the gopher tortoise, an imperiled species whose burrows provide habitat for an additional 360 species. The Georgia Department of Natural Resources recognized that listing the gopher tortoise under the Endangered Species Act would impose economic challenges on the state and constrain the military's ability to conduct critical training and testing activities. In response, the agency partnered with the Department of Defense, the Natural Resource Conservation Service, U.S. Fish and Wildlife Service, and multiple private organizations to develop the Gopher Tortoise Initiative. The goal of the initiative is to protect 65 of the 122 viable gopher tortoise populations on 100,000 acres throughout the state. To date, the Gopher Tortoise Initiative has permanently protected 49 viable populations, two of which occurred since the sentinel landscape's designation.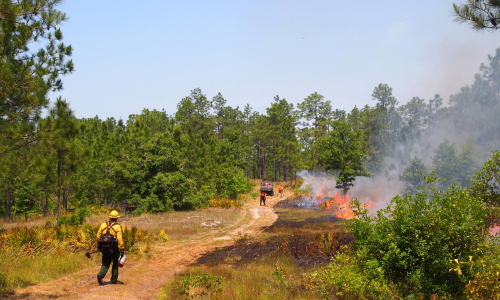 Expanding Prescribed Fire throughout Georgia
Sentinel landscape partners are actively working to implement prescribed fire on private properties throughout the State of Georgia. Fire is an important agent of renewal in longleaf pine forests and when introduced effectively, can reduce the risk of catastrophic wildfires, protect air quality, and improve species' habitats. To increase awareness and implementation of prescribed fire, sentinel landscape partners established the Chattahoochee Fall Line Prescribed Fire Cooperative. The Cooperative leverages funding from The Nature Conservancy, U.S. Fish and Wildlife Service, Natural Resource Conservation Servicce, National Fish and Wildlife Foundation, and local utility companies to increase prescribed fire on properties surrounding Fort Benning. Since its inception, the cooperative has served over 500 private landowners by conducting prescribed burns on 5,400 acres of private land and providing prescribed fire training to 100 members of the public.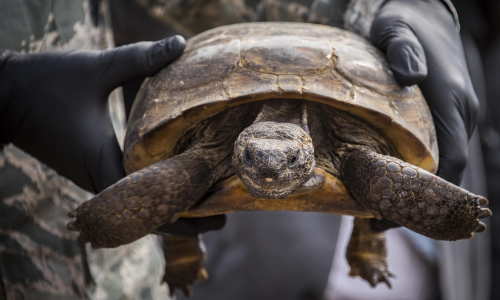 Strengthening Military Readiness through Endangered Species Recovery
Sentinel landscape partners were instrumental in creating the Department of Defense's (DoD) Gopher Tortoise Conservation Crediting Strategy. Under the Strategy, the DoD voluntarily preserves off-base gopher tortoise habitat to generate conservation credits that it can use to compensate for impacts to the longleaf pine ecosystem and other critical gopher tortoise habitat on military installations if the species were to be listed under the Endangered Species Act. The strategy is predicated on the belief that proactive conservation is a cost-effective, long-term solution to the military's habitat-related training challenges.
In The News
Hilliard Plantation Opens for Public Use as a Wildlife Management Area

Hilliard Plantation is within Fort Benning's Army Compatible Use Buffer Boundary and using funding from the Georgia Department of Natural Resources, the Department of Defense and the Nature Conservancy, the property was purchased for utilization as a state Wildlife Management Area in 2019. This acreage provides public hunting access to a county that previously had no public access for outdoor recreation. It also protects several hundred acres of longleaf pine and valuable habitat.

Read More

Let's Seize the Opportunities that Ocmulgee Becoming a Historic Park has Given Us

This article is an opinion piece concerning federal expansion of the Ocmulgee National Monument near Robins Air Force Base and the opportunities it presents in tandem with the Georgia Sentinel Landscape. In 2019 Congress authorized an expansion of the Ocmulgee National Monument from 700 acres to 2,800 and designated it a National Park. This increases public access to a historically significant Native American mound system along the Ocmulgee River.

Read More

Southern Georgia Named 'Sentinel Landscape' for Readiness Enhancement

This article is the original Department of Defense Press Release from 2017 designating the Georgia Sentinel Landscape. This article provides a brief overview of the Georgia Sentinel Landscape's goals and why this designation is important for the installations and communities of Georgia.

Read More
Resources
2019 Sentinel Landscapes Accomplishments Report

Georgia Sentinel Landscape Fact Sheet

Georgia Sentinel Landscape Brochure
Meet the Coordinator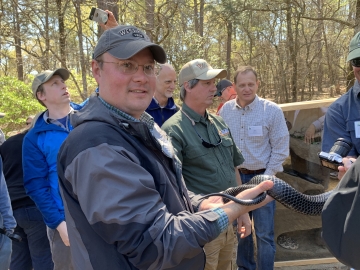 Ken Bradley
georgia@sentinellandscapes.org
In May 2018, Ken retired as an Army Lieutenant Colonel with 24 years of active federal service. Ken is a 1998 graduate of the United States Military Academy at West Point and also earned a Master's in Civil Engineering from Missouri University of Science and Technology. He served as an engineer officer in the 3rd Infantry Division, 1st Cavalry Division and most recently the Mississippi Army National Guard as the Environmental Program Manager where he managed Camp Shelby's Army Compatible Use Buffer Program.
"Georgia Conservancy is pleased to support Sentinel Landscapes. It is a great program that provides a focus on significant Georgia conservation priorities in collaboration with our most important employers- Defense, Agriculture and Forestry."