Camp Bullis Sentinel Landscape
About
The Camp Bullis Sentinel Landscape, based in the Texas Hill Country, encompasses ranch lands, spring-fed rivers, and one of the fastest growing regions in the country. Within this region, Joint Base San Antonio's Camp Bullis provides training opportunities for 266 mission partners, supporting DoD enlisted and officer medical training, military intelligence, special forces, pre-deployment, national, and international training requirements. With rapid population growth emanating from San Antonio and the I-35 corridor, the Texas Hill Country and Camp Bullis Sentinel Landscape are facing a mounting number of challenges affecting the long-term resilience of the region's natural resources. New development contributes to the loss of agricultural lands and increased ambient light pollution, impacting night-time military training. Growing demands on existing water supply have led to the loss of spring flow and aquifer drawdowns, impacting water supplies for Camp Bullis, rural landowners, towns, and cities. These and other challenges have attracted a myriad of partners to come together to create a collective vision for how to invest in protecting the natural resources that define the region as it grows. Since forming the Camp Bullis Sentinel Landscape in 2022, more than 50 partner organizations have committed to collaborate towards shared goals.
Map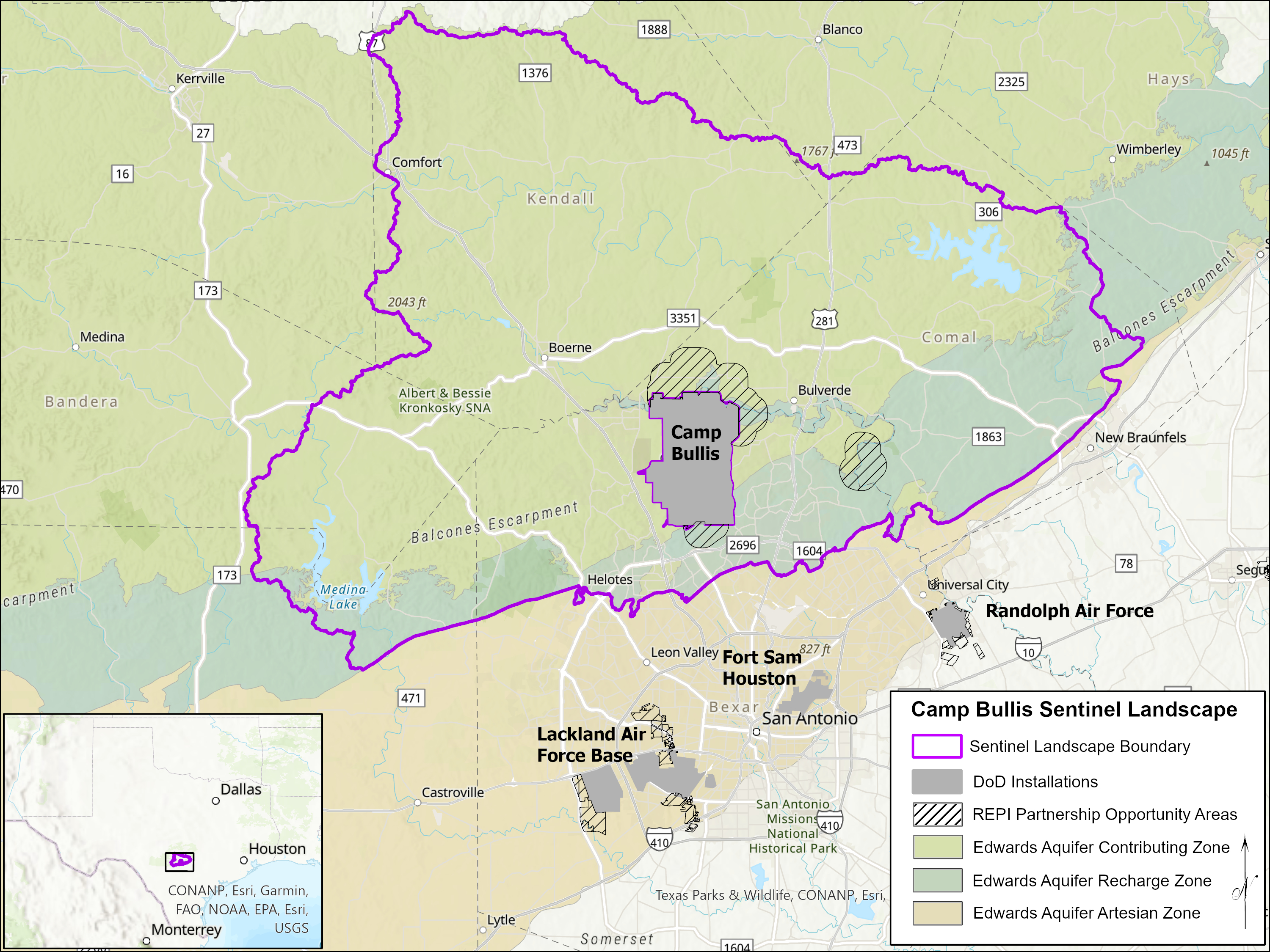 Partnership Highlights
Supporting Water Quality and Quantity Through Land Stewardship
The Camp Bullis Sentinel Landscape is defined by its unique surface and groundwater resources. Spring-fed creeks and rivers carve the rolling hills and connect inextricably with the Edwards and Trinity Aquifers. The Guadalupe, Medina, and San Antonio Rivers cross the Camp Bullis Sentinel Landscape, providing critical flows that support the economic and ecological vitality of the region's rural ranchlands and growing urban areas, all the way to the bays and estuaries of the Gulf of Mexico. This part of the Texas Hill Country is home to numerous endemic species, a rich agricultural heritage, and outdoor recreation areas sought by many. Together, Sentinel Landscape partners are working to improve watershed health and promote landscape resilience through water quality and quantity protection initiatives. Partners will work with a broad diversity of stakeholders, including neighboring communities, private land stewards, as well as the development community to champion and increase investment in water conservation and land stewardship. By supporting land stewardship within aquifer recharge and contributing zones, sentinel landscape partners hope to enhance agricultural productivity as well as groundwater recharge to the Edwards and Trinity Aquifers, to protect habitat of numerous endemic species, and to reduce the risk of drought conditions, flooding, and wildfire.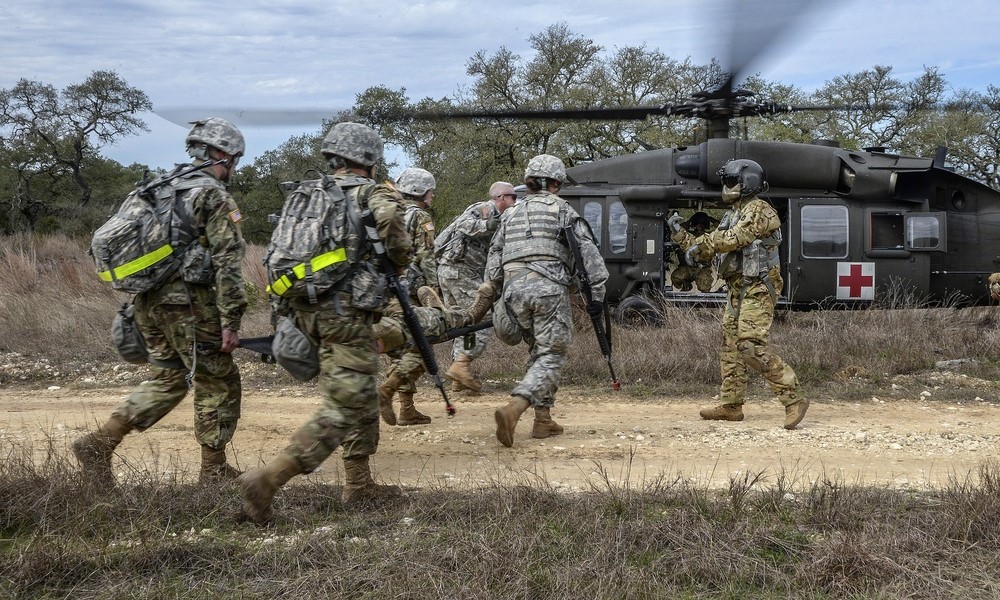 Addressing Climatic Risks Through Innovative Partnerships
Camp Bullis Sentinel Landscape partners, including Hill Country Alliance and Texas Parks & Wildlife Department, are already advancing stewardship programs for rural landowners. These hands-on projects are designed to engage willing landowners and improve soil health through stewardship practices that increase soil moisture levels and plant production, and mitigate flooding and erosion. In the more urban and suburban portions of the region, the San Antonio River Authority is managing projects that will demonstrate effective strategies to manage water resources of the Edwards Aquifer. One such project is assessing how four different permeable pavement designs affect the water quality and quantity of stormwater runoff compared to impermeable pavement surfaces over the Edwards Aquifer Recharge Zone. Through these and other efforts, the Camp Bullis Sentinel Landscape is reaching beyond traditional natural resource, agricultural, and development fields to promote improved land management and building practices that can mitigate impacts of prolonged drought, flash floods, and destructive wildfires. One of the defining features of the Camp Bullis Sentinel Landscape is its broad diversity of partners, spanning local, state, and federal agencies, nonprofits, academic institutions, and private landowners. The key partners listed below begin to capture the breadth of knowledge, commitment to working across boundaries, and passion that is being marshalled to tackle the full complexity of the conservation challenges—and opportunities—the Camp Bullis Sentinel Landscape faces.
Resources
2022 Camp Bullis Sentinel Landscape Profile

JBSA Regional Compatible Use Plan

State of the Hill Country: 8 Key Conservation and Growth Metrics for a Region at a Crossroads

Texas Land Trends
Meet the Coordinator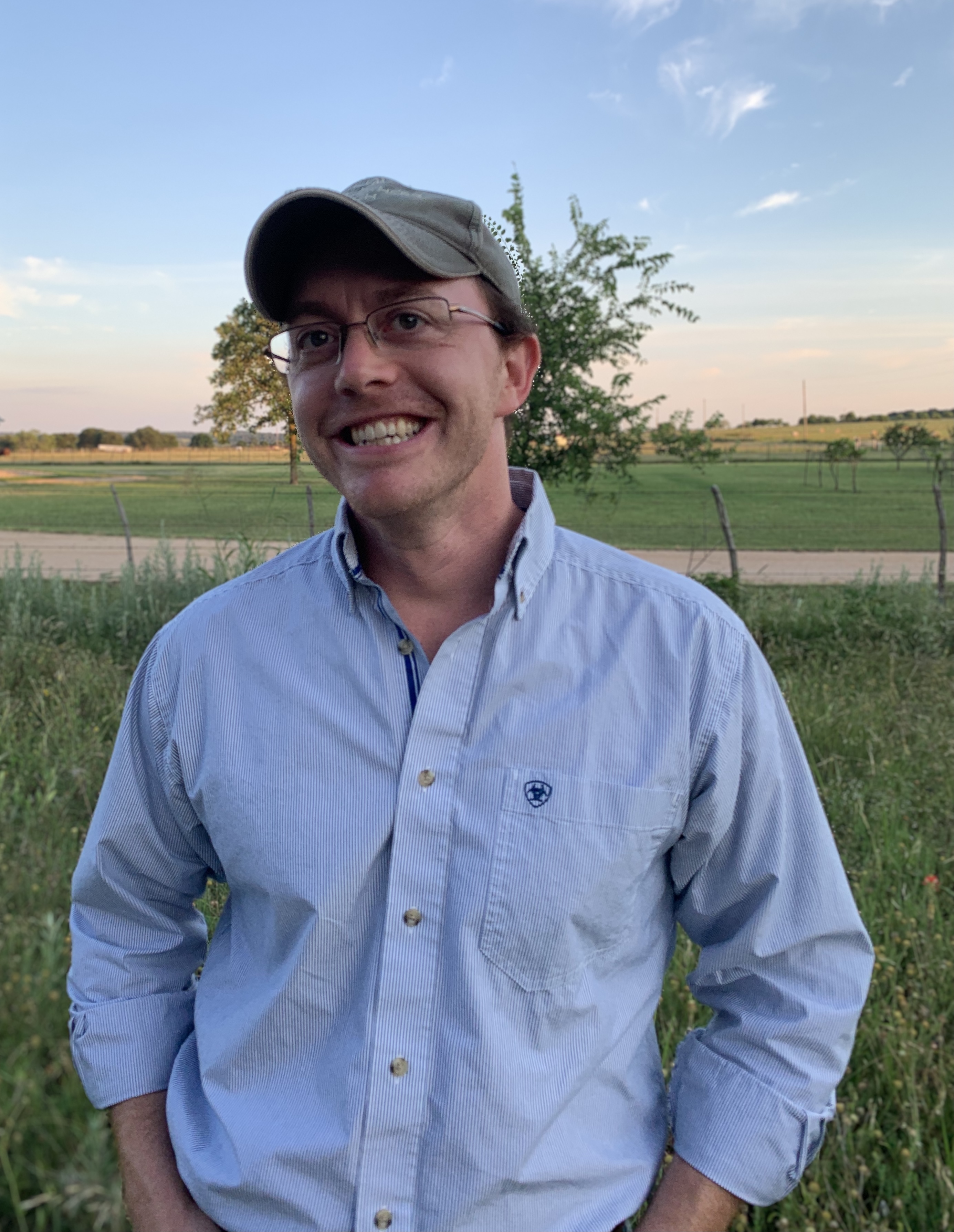 Daniel Oppenheimer
daniel@hillcountryalliance.org
Daniel Oppenheimer is the Land Program Director of the Hill Country Alliance (HCA) and Coordinator of the Camp Bullis Sentinel Landscape in Central Texas. Since 2017, Daniel has worked with thousands of private landowners, dozens of agency and non-profit partners, and communities across the Texas Hill Country to support private land stewardship and regional collaboration. Prior to joining HCA, Daniel coordinated the Dolores River Restoration Partnership in southwestern Colorado and eastern Utah. He is a fifth-generation Texan.
"We are excited about the recent Sentinel Landscape designation because it recognizes our partnership's interest to work together in meeting multiple missions, to include that of promoting the military's readiness mission. Farmers and ranchers make good neighbors to a military installation, helping safeguard the best training environments for our men and women in uniform."