Avon Park Air Force Range Sentinel Landscape
About
Located in south central Florida, the Avon Park Air Force Range Sentinel Landscape covers almost 1,700,000 acres of land and is known for its rich biodiversity and abundance of private ranches. The sentinel landscape is anchored by the Air Force's largest primary air-to-ground training range east of the Mississippi River, which is used by every branch of the Armed Forces. The sentinel landscape is also home to portions of the Everglades Headwaters National Wildlife Refuge and Conservation Area, a 900-acre parcel that buffers the installation from incompatible development and offers excellent opportunities for hunting, fishing, camping, and other outdoor activities. In 2016, local partners forged the Avon Park Air Force Range Sentinel Landscape to preserve the region's ecological assets and strengthen military readiness by helping private landowners manage their properties sustainably.
Interactive Landscape Map
Total Funding by Partner
Partner Funding Through Fiscal Year 2021 In Millions

| | | | | | | | |
| --- | --- | --- | --- | --- | --- | --- | --- |
| USDA | $0.92M | $0.57M | $1.47M | $1.58M | $13.32M | $0.0M | $3.41M |
| DoD | $1.50M | $6.60M | $1.00M | $1.20M | $2.00M | $2.85M | $5.99M |
| DOI | $3.15M | $7.17M | $2.68M | $2.58M | $2.00M | $0.0M | $0.02M |
| State | $1.64M | $7.42M | $6.70M | $4.92M | $39.49M | $1.74M | $14.23M |
| Local | $0.00M | $0.00M | $0.56M | $0.00M | $0.69M | $0.0M | $0.0M |
| Private | $0.65M | $0.07M | $0.12M | $1.96M | $1.90M | $0.0M | $0.15M |
Total Acres Protected and Enrolled
| | |
| --- | --- |
| Acres Protected | 63308.37 |
| Acres Enrolled | 744112.20 |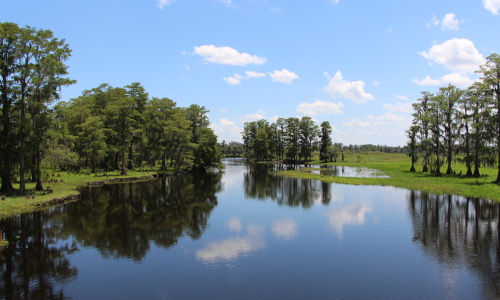 Improving Water Quality in the Everglades Watershed
Sentinel landscape partners support the Everglades by improving water quality, quantity, and storage capacity in the Northern Everglades Watershed. As of 2018, sentinel landscape partners have successfully enrolled 8,700 acres of private land in the Natural Resource Conservation Service's Wetland Reserve Program and 1,064 acres of private land in the South Florida Water Management District's Dispersed Water Management Program.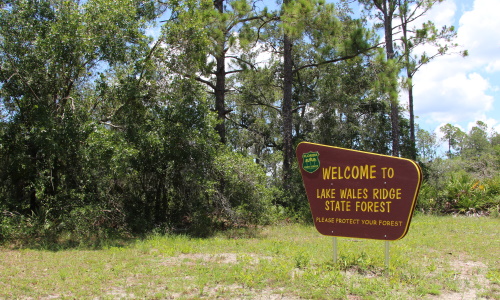 Increasing Public Access to Recreation
The U.S. Fish and Wildlife Service and the Florida Fish and Wildlife Conservation Commission collaborated to establish a 1,500-acre unit within the Everglades Headwaters Wildlife Management Area that is open to the public for the 2019-2020 hunting season. Similarly, the Florida Department of Environmental Protection and the U.S. Fish and Wildlife Service are working together to offer hunting and other public recreational opportunities on 4,000 acres of ranch land that the partners recently acquired.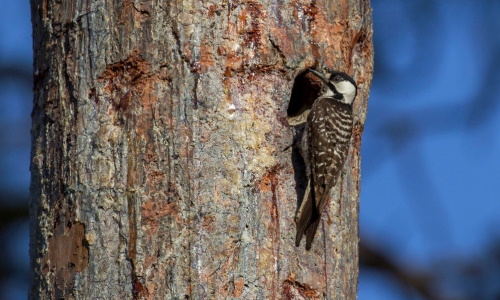 Protecting the Red-Cockaded Woodpecker at Avon Park Air Force Range
In 2019, Avon Park Air Force Range surpassed its recovery goal for the endangered red-cockaded woodpecker (RCW) by documenting 40 potential RCW breeding groups. Avon Park Air Force Range accomplished its objective by partnering with the Archbold Biological Station, which has helped the installation monitor and manage the species for over two decades. The Avon Park Air Force Range Wildland Fire Support Module, an interagency collaborative consisting of representatives from the Air Force, U.S. Fish and Wildlife Service, and Colorado State University, also supported the installation in its efforts to reach the recovery goal. Avon Park Air Force Range will continue to adopt conservation practices aimed at protecting the RCW and other imperiled species, thus continuing the strong partnership between the Department of the Interior and the Department of Defense.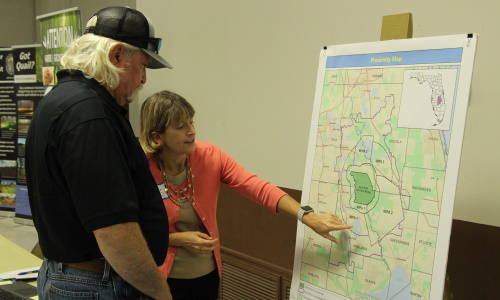 Landowners Receive Priority Consideration for Federal Assistance
Private landowners whose properties are within the Avon Park Air Force Range Sentinel Landscape boundary receive priority consideration for the Natural Resource Conservation Service's (NRCS) Agricultural Land Easement Program. This program protects the long-term viability of the nation's food supply by preventing the conversion of working lands to non-agricultural uses. NRCS has already protected 15,200 acres of working land within the sentinel landscape since its designation and will continue to build on this accomplishment. To learn more about opportunities for assistance, please visit our interactive landowner resources tool.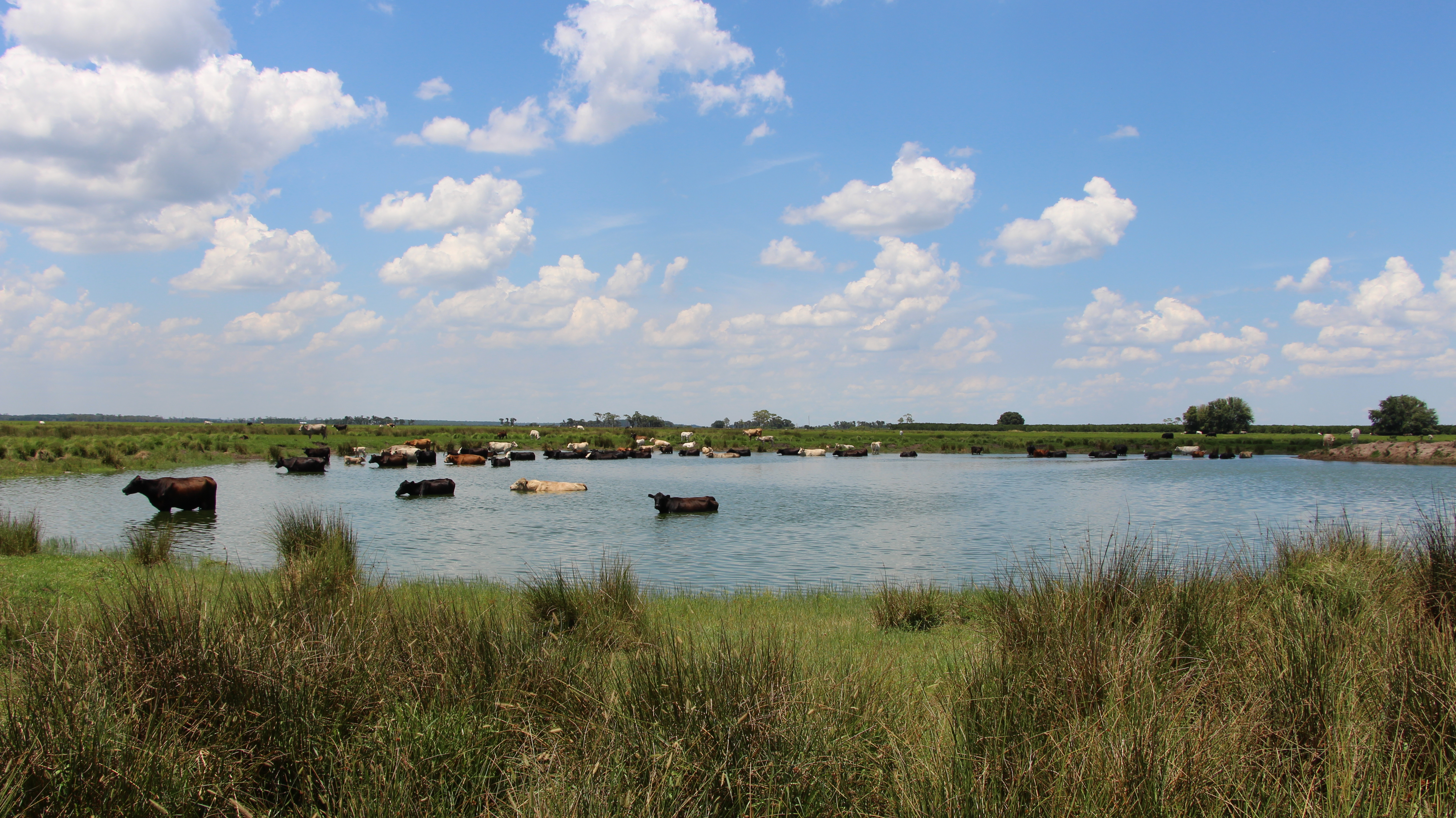 Enhancing the Conservation Easement Process
In 2018, sentinel landscape partners created the first joint Department of Defense (DoD)—Department of Agriculture (USDA) conservation easement by merging Air Force easement language with USDA requirements. Through the easement, USDA and DoD permanently protected 1,600 acres of ranch land around a high value military testing and training area. The groundbreaking project eliminated redundancies in government spending, strengthened the installation's air mission, and protected central Florida's water resources.
Resources
MOU for Coordination of Florida Sentinel Landscapes

2022 Avon Park Sentinel Landscape Profile

Avon Park Air Force Range Sentinel Landscape Conservation Guide

Landowner Assistance Expo Briefings
Meet the Coordinator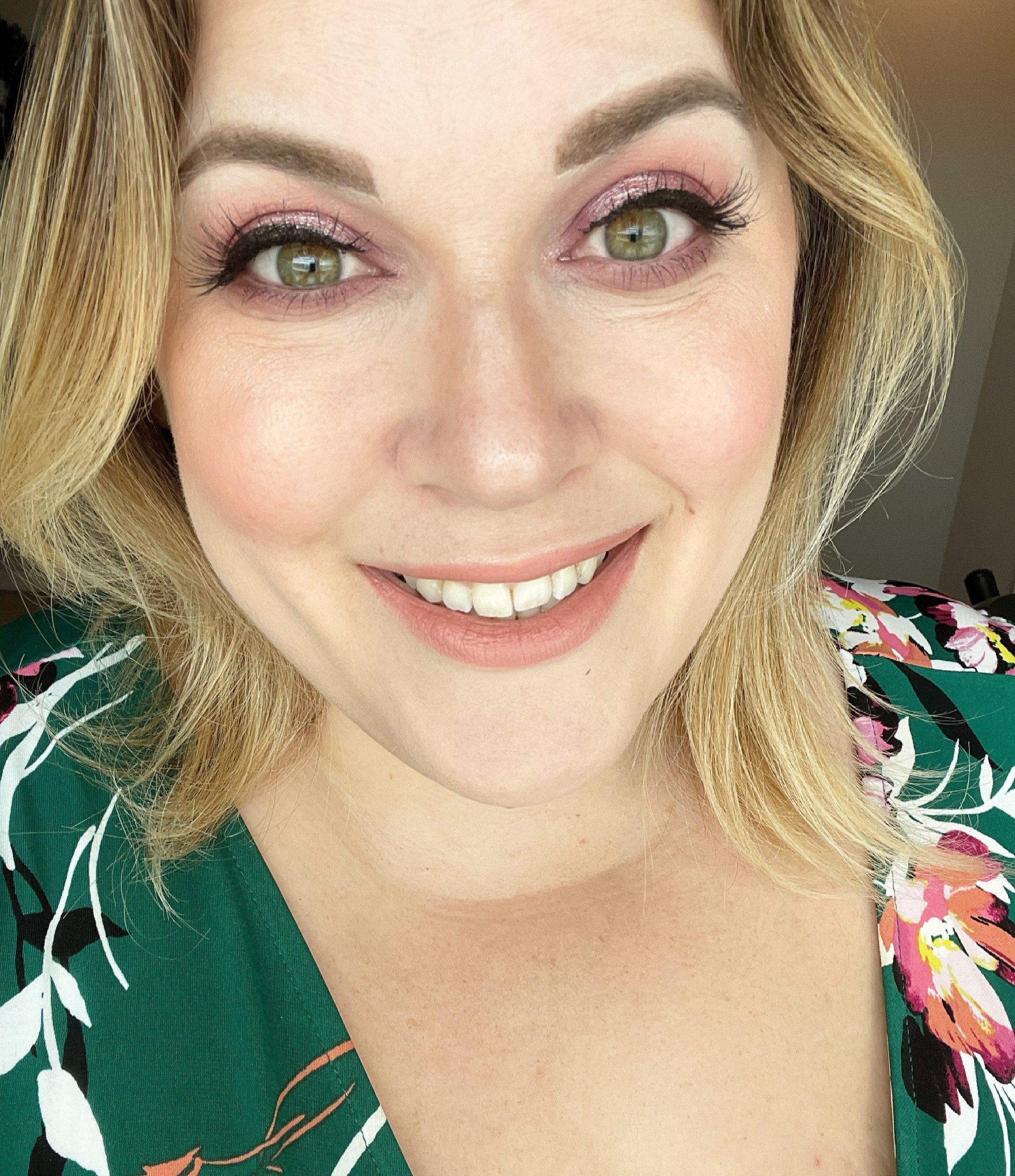 April DaSilva
avonpark@sentinellandscapes.org
April is the Avon Park Sentinel Landscape Coordinator and a Project Coordinator with the Central Florida Regional Planning Council. She comes to the Council with a strong background in administration, coordination, and experience with support organizations like the Farm Bureau. With over 18 years experience in strategic marketing and executive support, April brings with her a passion for advocacy, community spirit and continued learning.
"The Sentinel Landscapes [Partnership] provides a vehicle to expedite estate planning, provide liquidity for disinterested shareholders, and prevent fragmentation of a holistic landscape and cow/calve production unit. I see it as a blessing for all."