Fort Huachuca Sentinel Landscape
About
Located in rural southern Arizona, Fort Huachuca features the premier restricted military airspace for unmanned aircraft system training in the Western United States. An appreciation for the installation's national defense mission, coupled with the region's long history of cattle ranching, remote location, and unique high-altitude and mountainous geography, has created an environment where local stakeholders collaborate to solve shared problems. This tradition continues today as Fort Huachuca Sentinel Landscape partners work cooperatively to tackle critical issues such as water conservation, long-term agricultural viability, wildlife habitat restoration, and military mission protection.
Interactive Landscape Map
Total Funding by Partner
Partner Funding Through Fiscal Year 2018 In Millions

| | | | | | |
| --- | --- | --- | --- | --- | --- |
| USDA | $0.60M | $1.30M | $0.70M | $1.20M | $3.30M |
| DoD | $5.00M | $0.00M | $2.70M | $0.60M | $4.10M |
| DOI | $0.20M | $0.20M | $1.40M | $0.10M | $0.10M |
| State | $0.20M | $0.90M | $0.20M | $0.30M | $0.90M |
| Local | $2.70M | $0.00M | $0.00M | $0.00M | $0.00M |
| Private | $0.00M | $1.10M | $0.20M | $0.10M | $0.80M |
Total Acres Protected and Enrolled
| | |
| --- | --- |
| Acres Protected | 12447.43 |
| Acres Enrolled | 254804.60 |
Partnership Highlights
Strengthening the Military Mission at Fort Huachuca
Funding acquired through the Department of Defense's Readiness and Environmental Protection Integration Program has helped Fort Huachuca conserve 13,857 acres within the Buffalo Soldier Electronic Test Range, decreasing the probability of incompatible development within the range complex and beneath the installation's restricted airspace. Additionally, sentinel landscape partners have used funds from the Arizona Military Installation Fund to preserve local wetlands, which in turn created 4,371 acre-feet of water savings for Fort Huachuca and significantly lessened the burden on groundwater use within the Upper San Pedro River watershed.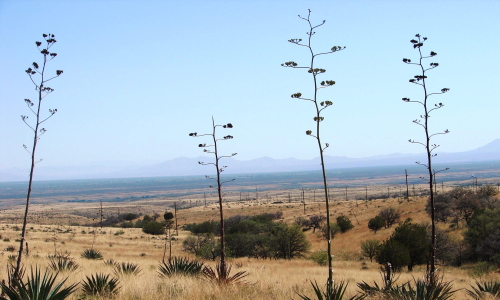 Collaborative Endangered Species Recovery
Sentinel landscape partners participated in projects that contributed to the delisting of the lesser long-nosed bat from the Endangered Species Act—making it the first bat in history to be removed due to recovery efforts. At the time of its initial listing in 1998, fewer than 1,000 of the bats existed in the region. Today, an estimated 200,000 bats populate 75 roosts throughout the Southwestern United States and Mexico. To ensure that the lesser long-nosed bat continues to thrive following its delisting, sentinel landscape partners are working with private landowners to increase the accessibility of food and other resources for the bat.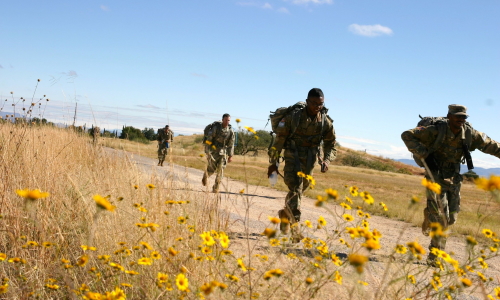 Unconventional Partnerships to Promote Military Readiness
In 2018, Fort Huachuca partnered with the Coronado National Forest Sierra Vista Ranger District Office to conduct a Joint Operational Integration Assessment on 14,000 acres land within the Huachuca Mountain Range. The Huachuca Mountains rise almost 8,400 feet above the desert floor and offer terrain similar to a modern battlefield. The no-impact exercise allowed Army soldiers and Marines to perform signals intelligence collection and active electronic warfare operations in a realistic combat environment.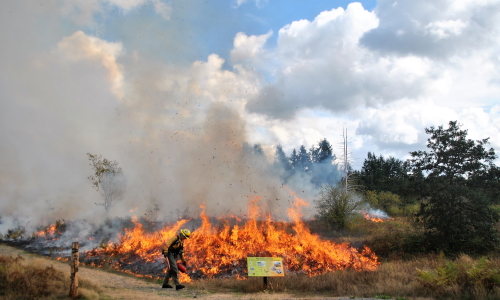 Expanding Prescribed Fire
Sentinel landscape partners have improved the region's ecological health by expanding the use of prescribed fire. Since 2015, Fort Huachuca and U.S. Forest Service crews have administered over 19,000 acres of prescribed fire on the installation, significantly contributing to fuel reduction, habitat improvement, and wildfire mitigation in the area.
In The News
Fort Huachuca Fuel Treatments

Fuel treatments on Fort Huachuca produce forest structure and fuel characteristics that reduce the likelihood of future catastrophic fires in endangered species Protected Activity Centers.

Read More

Sustaining the Land: Fort Huachuca Invites in Pollinators on Earth Day

Volunteers of all ages gathered at Lakeside Pond on Monday to help plant the installation's first pollinator garden, to create a welcoming place for the hummingbirds, butterflies, and other insects that help grow the Earth's plant and crop populations.

Read More

Showcasing the Importance of Grasslands, Leopard Frogs and Livestock

In connection with the Sentinel Landscapes initiative, the Cooperative Extension, through the University of Arizona, hosts "Grasslands, Leopard Frogs and Livestock — Fort Huachuca's 21st Century Allied Forces".

Read More
Resources
2019 Sentinel Landscapes Accomplishments Report

Fort Huachuca Fact Sheet

Fort Huachuca Strategic Plan

Fort Huachuca Detailed Map

Climate Change—The Basics

Ecosystem Services Fact Sheet

Prescribed Fire Fact Sheet

Grasslands Fact Sheet

Invasive Species Fact Sheet

Ranching Fact Sheet

Water Conservation Fact Sheet

Wildlife Corridors Fact Sheet
Meet the Coordinator
Alanna Riggs
forthuachuca@sentinellandscapes.org
Alanna Riggs is a 6th generation cattle rancher from the Sulphur Springs Valley of Southeastern Arizona. She attended the University of Arizona, earning a degree in Range Ecology and Management. Now, Alanna lives within the Fort Huachuca Sentinel Landscape and is still involved in ranching, as well as landscape scale conservation and restoration.