South Carolina Lowcountry Sentinel Landscape
South Carolina

Established 2023
About
The South Carolina Lowcountry Sentinel Landscape supports immense biodiversity, encompassing more than 2.2 million acres of longleaf pine forest, ranchlands, salt marsh, forested wetlands, and unbroken wildlife corridors in the southeastern corner of South Carolina.
The landscape supports training activities for Marine Corps Air Station Beaufort, Marine Corps Recruit Depot Parris Island, and Naval Support Facility Beaufort, contributing $2.2 billion to the regional economy and providing nearly 20,000 jobs. The installation missions include supporting operations for the 2nd Marine Aircraft Wing, recruiting and training U.S. Marines, and providing critical medical services for active-duty Navy and Marine personnel.
Partners established the South Carolina Lowcountry Sentinel Landscape in 2023 to work on protecting ecologically significant areas, drinking water supplies, and working farmlands, all with the goal of maintaining long-term military readiness and climate resilience across the landscape.
Map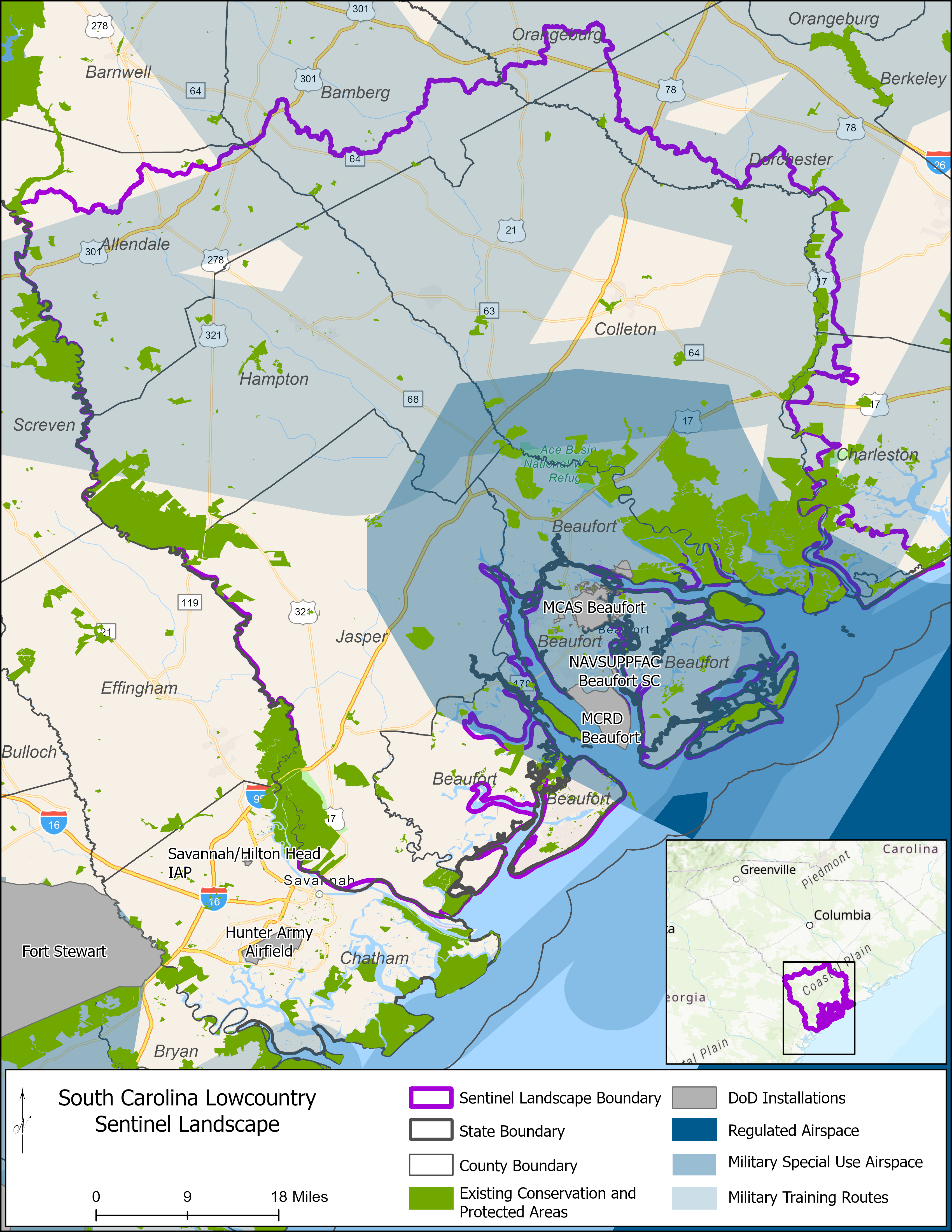 Partnership Highlights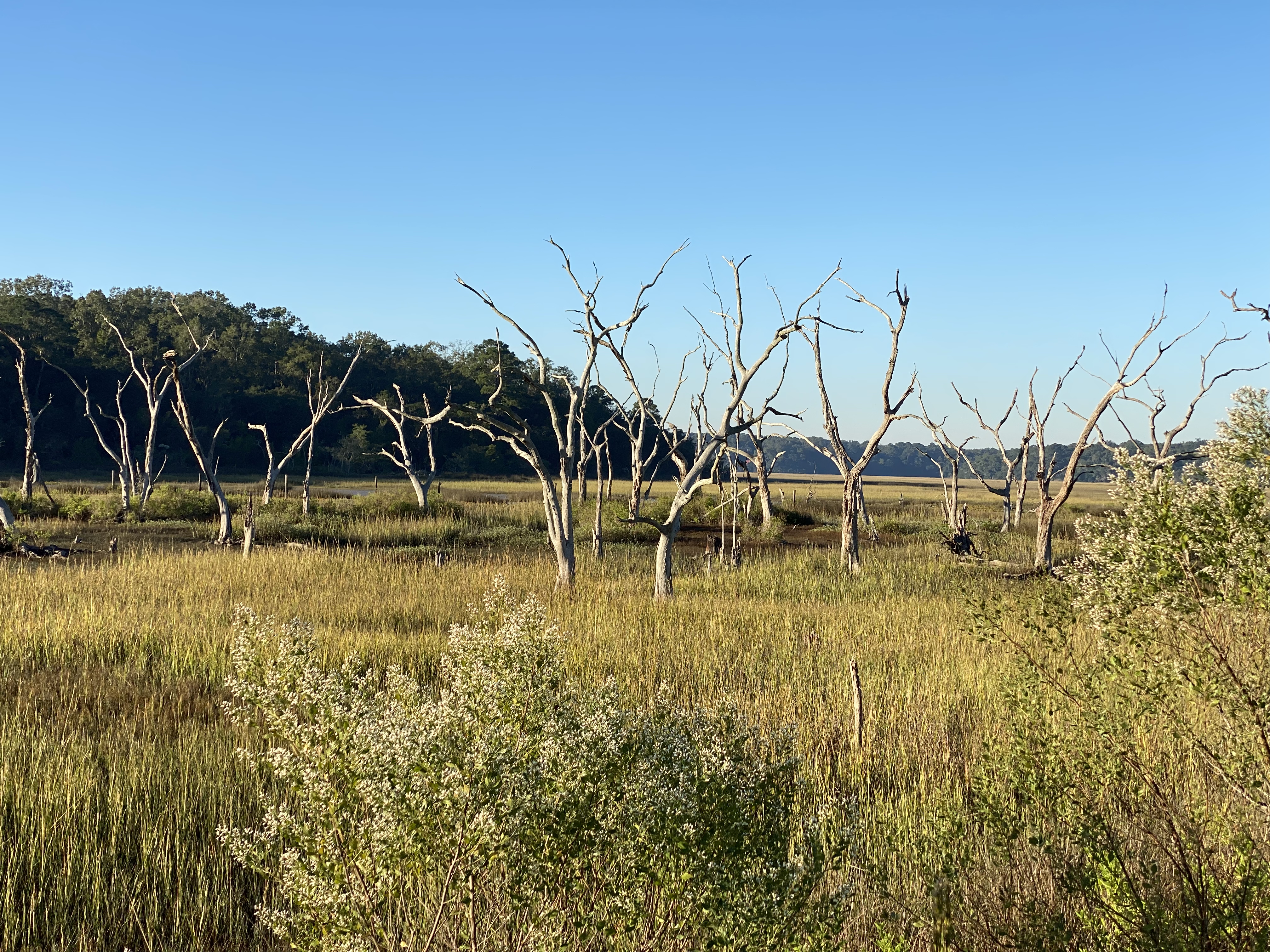 Improving Resilience through Marsh Conservation
The South Carolina Lowcountry Sentinel Landscape is defined by its sprawling salt marshes, which provide critical nursery habitat for economically important fish and support carbon sequestration. However, marsh edges are eroding at an alarming rate due to sea level rise and new development in the region that blocks natural marsh migration routes. These pressures reduce the resilience of coastal ecosystems and jeopardize working farmlands. This habitat loss also severely threatens the ability of coastal installations like Marine Corps Recruit Depot Parris Island to continue their mission critical activities and exposes transportation routes and installation infrastructure to erosion and flooding.
Partners in the South Carolina Lowcountry Sentinel Landscape are committed to restoring and enhancing vital salt marshes to protect critical infrastructure and habitats. The partners have developed a strategy to install living shorelines and nature-based solutions that reduce erosion, protect upland marsh migration corridors, and conserve natural marsh vegetation. Through research, new project identification, and other collaborative efforts, the South Carolina Lowcountry Sentinel Landscape is poised to become a leader in coastal resilience.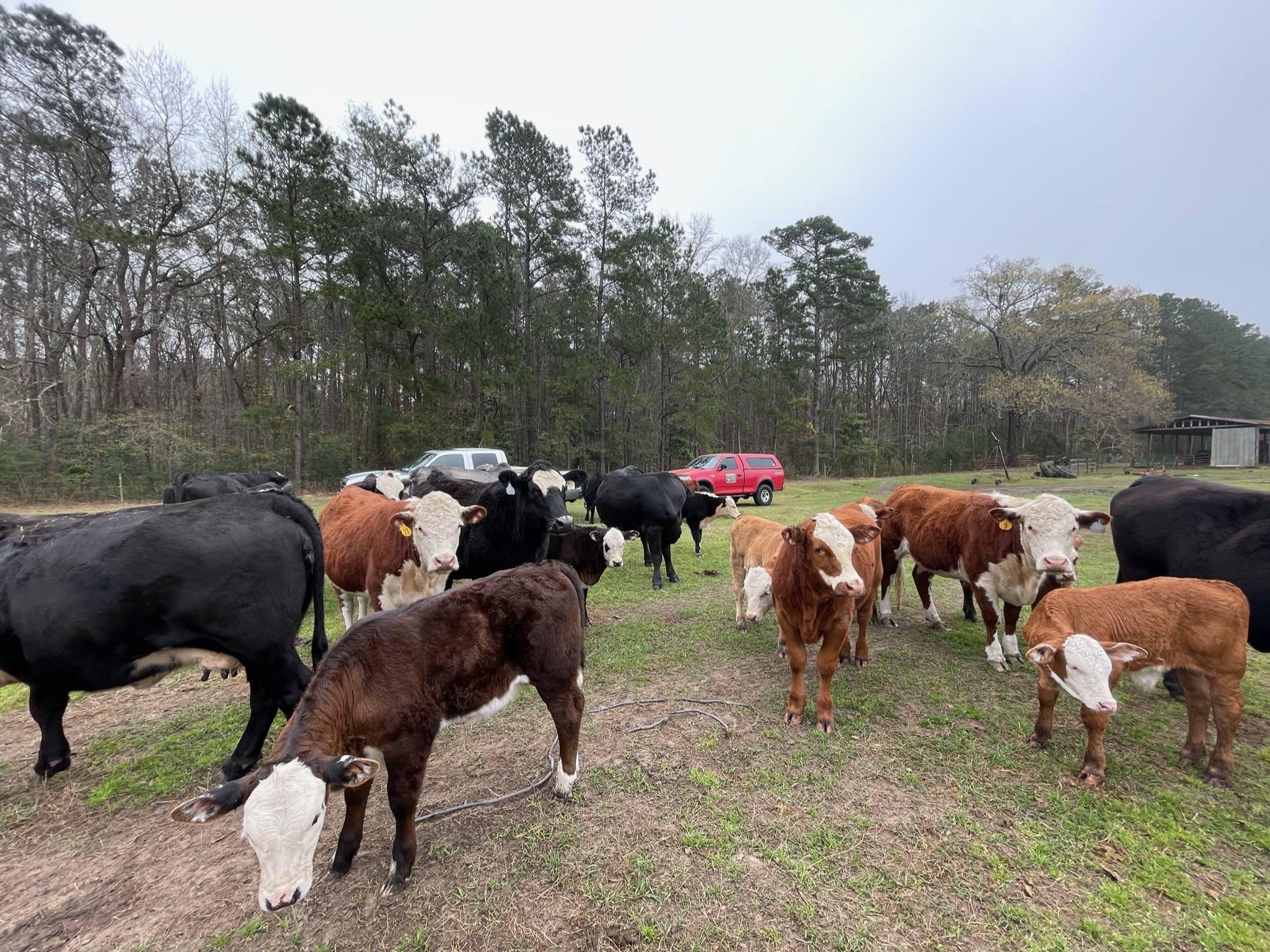 Safeguarding Working Farmlands
Partners in the South Carolina Lowcountry Sentinel Landscape also protect working lands, enabling landowners to remain on their land and maintain it in a use that is compatible with military mission. A successful REPI Program partnership has been in place in Beaufort County since 2006, protecting over 10,000 acres around Marine Corps Air Station Beaufort. However, landowners in rural South Carolina often belong to historically under-served groups and may not be aware of or have access to government programs that can assist them in protecting their working lands.
The landscape's diverse partners will use Department of Defense funds to leverage existing grants from local, state, and federal sources for acquiring working lands easements that protect strategic properties from development that could impact military testing and training needs. Additionally, the partners plan to enroll landowners in under-served communities in financial assistance programs focused on promoting sustainable agriculture and forestry practices. This will improve landscape resilience by supporting landowners in maintaining habitat connectivity, pursuing beneficial prescribed fire activities, and improving water quality through landscape-scale conservation.
The partnership is also advancing market-based approaches that help generate revenue for farmers by identifying market needs (e.g., sawmills, agricultural co-ops, food hubs) and other missing financing links, such as tax incentives, that will improve the profitability of working lands and ensure landowners receive conservation funding benefits. Land protection will also support the habitat and future viability of the significant populations of threatened and endangered species in the landscape, including the red cockaded woodpecker, gopher frog, gopher tortoise, and flatwood salamander.
Resources
2023 South Carolina Lowcountry Sentinel Landscape Profile