Eastern North Carolina Sentinel Landscape
North Carolina

Established 2016
About
The Eastern North Carolina Sentinel Landscape spans nearly 11 million acres across a 33-county region in North Carolina's Coastal Plain and Sandhills. The sentinel landscape is home to five key military installations and ranges: Fort Bragg, Dare County Bombing Range, Marine Corps Base Camp Lejeune, Marine Corps Air Stations Cherry Point and New River, and Seymour Johnson Air Force Base. Behind agriculture, military-related activity is the second largest economic driver in the state. For years, Eastern North Carolina Sentinel Landscape partners have worked together to support endangered species recovery, while simultaneously strengthening the military mission and energizing local agricultural economies.
Interactive Landscape Map
Total Funding by Partner
Partner Funding Through Fiscal Year 2018 In Millions

| | | | | |
| --- | --- | --- | --- | --- |
| USDA | $6.70M | $7.60M | $9.30M | $7.40M |
| DoD | $7.90M | $6.60M | $19.60M | $4.90M |
| DOI | $1.10M | $0.10M | $1.10M | $0.60M |
| Private | $2.40M | $2.50M | $4.80M | $4.70M |
Total Acres Protected and Enrolled
| | |
| --- | --- |
| Acres Protected | 49400.24 |
| Acres Enrolled | 757786.54 |
Partnership Highlights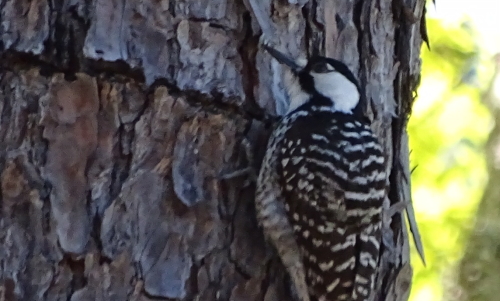 Strengthening Military Readiness through Endangered Species Recovery
Sentinel landscape partners strengthen military readiness at Marine Corps Base Camp Lejeune by supporting the recovery of the endangered red-cockaded woodpecker (RCW). Since 2015, partners have collaborated on an effort to preserve 60 RCW clusters on two properties adjacent to the installation through the Recovery and Sustainment Program Partnership. Protecting the RCW and expanding its habitat off-base enhances training flexibility at Camp Lejeune by relieving the Marine Corps of restrictions that were activated by the Endangered Species Act.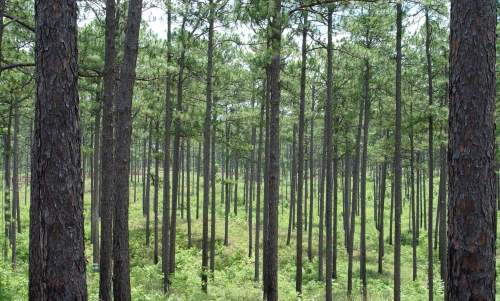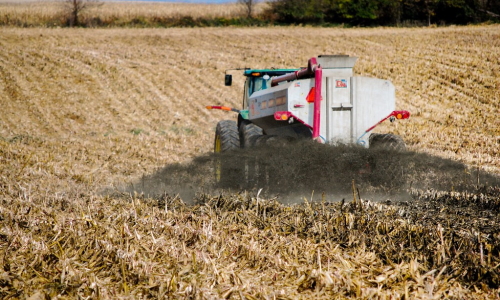 Improving Agricultural Productivity
In 2018, the Natural Resource Conservation Service's Regional Conservation Partnership Program awarded $7 million in funding to create the North Carolina Sentinel Landscapes High Priority Protect Program, a partnership between the U.S. Army, Air Force, Marine Corps, the North Carolina Department of Agriculture and Consumer Services, and others. Through this program, agriculture, conservation, and defense stakeholders work with willing landowners to place easements on properties that sentinel landscape partners have identified as high priority for protection.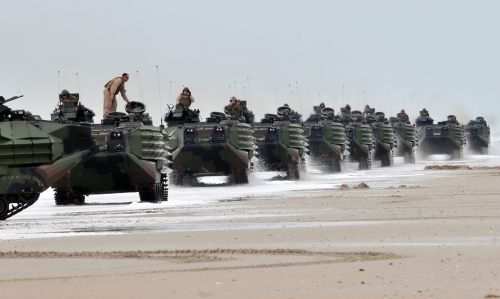 Streamlining Government Resources to Protect the Military Mission and Promote Agriculture
The Agricultural Development and Farmland Preservation Program Trust Fund collaborated with defense partners to develop a single easement template for the Eastern North Carolina Sentinel Landscape that can theoretically streamline resources from multiple sentinel landscape partners. The partners designed the template to reduce the anticipated easement acquisition timeline from 3-4 years to 1-2 years by having legal and logistical negotiations pre-approved by all potential funding resources.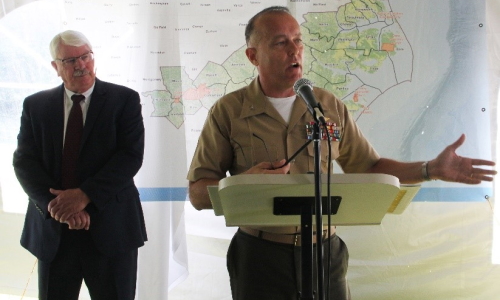 Acknowledging Private Landowners for Stewardship
In 2018, the North Carolina Forest Service collaborated with several other sentinel landscape partners to develop a landowner recognition and appreciation letter that will be distributed to individuals who have demonstrated a commitment to sustainably managing their working lands. By voluntarily implementing practices related to prescribed fire, wildlife restoration, and recreational management, these landowners have directly contributed to the Sentinel Landscapes Partnership's mission.
Resources
2019 Sentinel Landscapes Accomplishments Report

Eastern North Carolina Sentinel Landscape Fact Sheet

Conserving Working Lands: A Land Legacy Workbook with Tools and Resources to Guide Your Conservation Planning

Establishing a Partnership for Sentinel Landscapes: The North Carolina Experience, a Dissemination Guide for Other States
Meet the Coordinator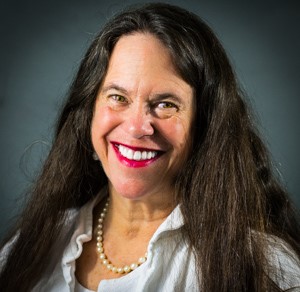 Dr. Mary Lou Addor
easternnorthcarolina@sentinellandscapes.org
Lou currently serves as the Eastern North Carolina Sentinel Landscape Coordinator and as adjunct professor with NC State's College of Education. With considerable experience in program, partnership, and leadership development including facilitation of multi-stakeholder environmental decision-making since 1995, Lou assists partnerships, communities and organizations with integrative problem solving and professional development. Lou serves/has served on several national committees and initiatives including the Association of Conflict Resolution Environmental and Public Policy Leadership Council; U.S. Institute of Environmental Conflict Resolution National Roster of Environmental Conflict Resolution Practitioners; University Network for Collaborative Governance Steering Committee and Network member; and serves on the Public Deliberation Community of Practice of eXtension.
"North Carolina supports a large military presence, including Marine Corps Base Camp Lejeune and Marine Corps Air Stations New River and Cherry Point. … Private lands enable essential military training opportunities that are important in protecting the military's mission. Partnerships like these facilitate agreements with private landowners that may allow mutually beneficial and compatible uses, thus further enabling our ability to conduct realistic training in preparation to go into harm's way – and win. Marine Corps Installations East is proud and honored to be a part of programs that synchronize federal, state, and local interests, conservation, and our training requirements."