Northwest Florida Sentinel Landscape
About
The Northwest Florida Sentinel Landscape encompasses rural and agricultural lands, iconic longleaf pine forests, threatened and endangered species habitat and all northwest Florida's military installations including Eglin Air Force Base (AFB), Tyndall AFB, Naval Air Station (NAS) Pensacola, NAS Whiting Field, Naval Support Activity Panama City, Eglin Gulf Test and Training Range, Hurlburt Field, Saufley Field, and Corry Station. These nine Department of Defense installations and ranges are integral to military training, weapons testing, special operations, joint cyber warfare and aviation pilot training for Air Force, Navy, Marine Corps and Coast Guard. The Northwest Florida Sentinel Landscape aims to enable collaborative efforts and provide greater access to funding assistance from federal, state, and local governments and private sector programs. These programs will be employed toward military mission assurance, restoring and increasing resiliency and sustainability of habitat and water resources, retaining working agriculture and forest lands as compatible, resilient, and sustainable land uses; mitigating coastal risks, and increasing the climate resilience of military installations and the landscapes that overlap mission footprints.
Map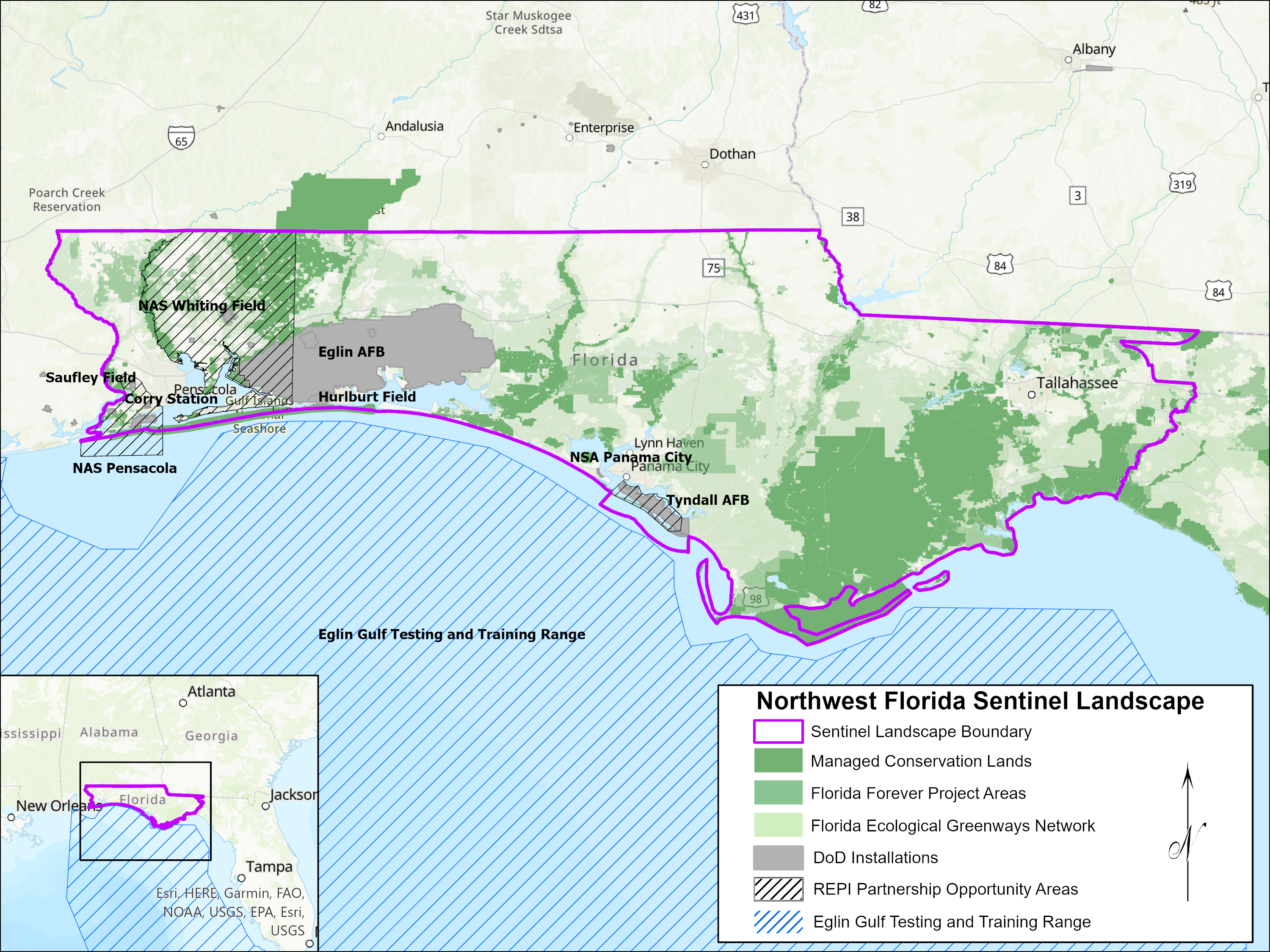 Partnership Highlights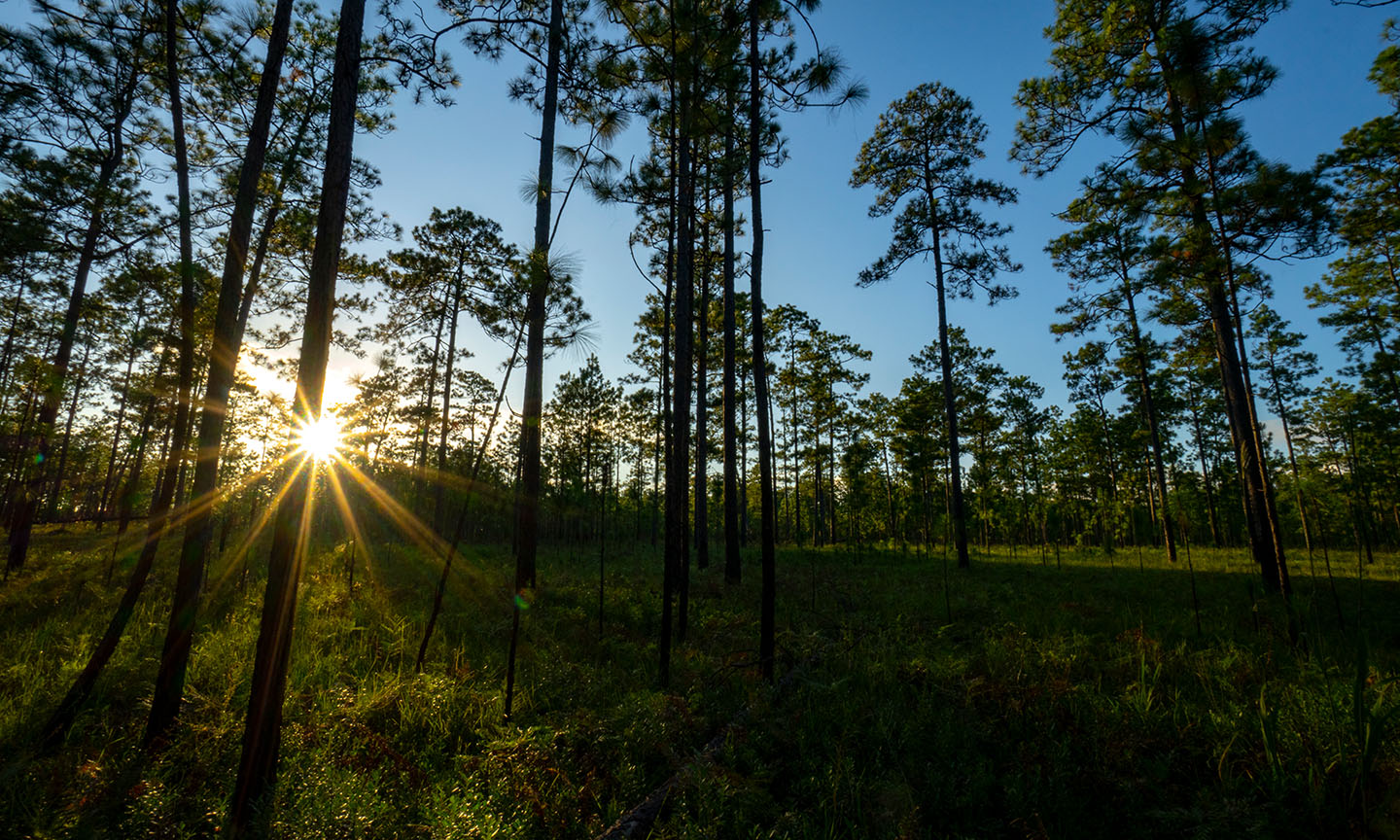 Protecting Compatible Working Lands Through Collaboration and Landowner Recognition
The partners of the Northwest Florida Sentinel Landscape recognize the importance of preserving working agriculture and forestry lands within their landscape, not just as areas that are compatible with the military mission, but also as lands that preserve the resilience of the entire landscape and provide financial health and sustainability to the local residents. For this reason, one of the primary goals of the Northwest Florida Sentinel Landscape is to retain these working agricultural lands in their current state by accelerating outreach, technical assistance, and financial incentive efforts while being responsive to the diverse needs and motivations of working landowners. By working collaboratively with partners and stakeholders to identify innovative solutions and opportunities, the Northwest Florida Sentinel Landscape hopes to establish a formal landowner recognition program to acknowledge the significant contributions of local landowners to the Northwest Florida Sentinel Landscape goals and objectives.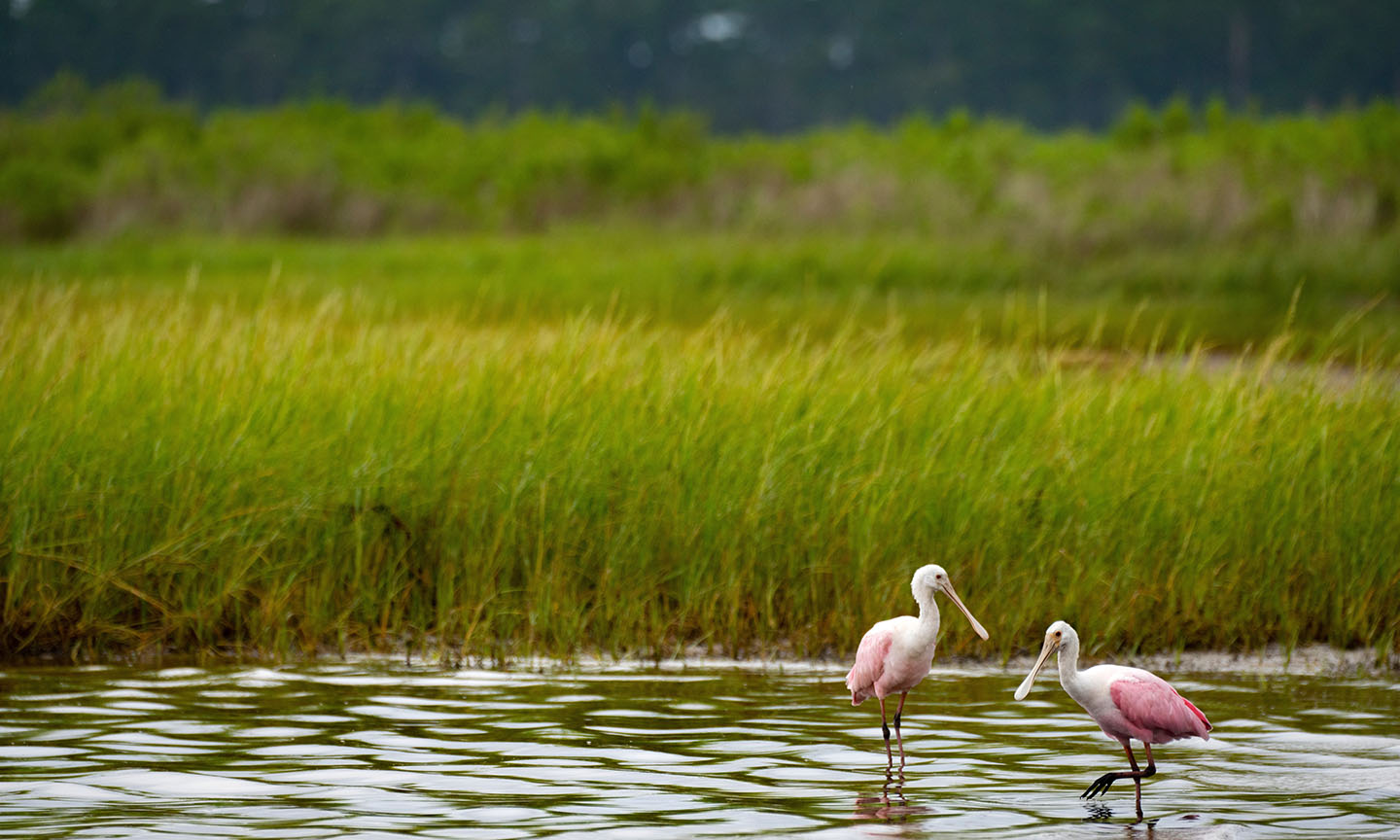 Improving Resilience in a Coastal Landscape
As a coastal landscape, the Northwest Florida Sentinel Landscape faces increasing climate-related risks such as coastal erosion, flooding, and extreme storms, which can exacerbate existing natural resource and encroachment concerns. For example, the National Oceanic and Atmospheric Administration's conservative one-foot sea-level rise inundation model predicts that approximately 1.2 million acres of the Northwest Florida Sentinel Landscape are likely to experience flooding. Additionally, this region of Florida frequently experiences the impacts of extreme weather, such as Hurricane Michael in 2018, which was one of the strongest hurricanes to make landfall in continental United States in recorded history. To increase the landscape's resiliency, mitigate coastal risks, and better adapt to the changing climate, the Northwest Florida Sentinel Landscape partners and stakeholders are working towards conserving and restoring habitat and water resources with an emphasis on listed species recovery, prescribed fire, and water quality and quantity. The landscape partners will focus on supporting longleaf pine restoration, native grassland restoration, hydrological restoration, listed species recovery, at risk species conservation, invasive species control, prescribed burning, and stormwater capture and water re-use infrastructure projects to enhance the resilience of the landscape.
In The News
Insights from the building of the Northwest Florida Sentinel Landscape Partnership

This is the first of two articles that seek to capture insights and lessons learned from the emergence of the Northwest Florida Sentinel Landscape.

Read More
Resources
2022 Northwest Florida Sentinel Landscape Profile

MOU for Coordination of Florida Sentinel Landscapes

Northwest Florida Sentinel Landscape Use Case Study

NWFSL Presentation Video Recording (9Nov2022)

NWFSL PowerPoint Presentation (9Nov2022)

Northwest Florida Sentinel Landscape Fact Sheet

Northwest Florida Sentinel Landscape Story Map

Northwest Florida Sentinel Landscape Web Map Application

Northwest Florida Sentinel Landscape FY22 Accomplishments Report
Meet the Coordinators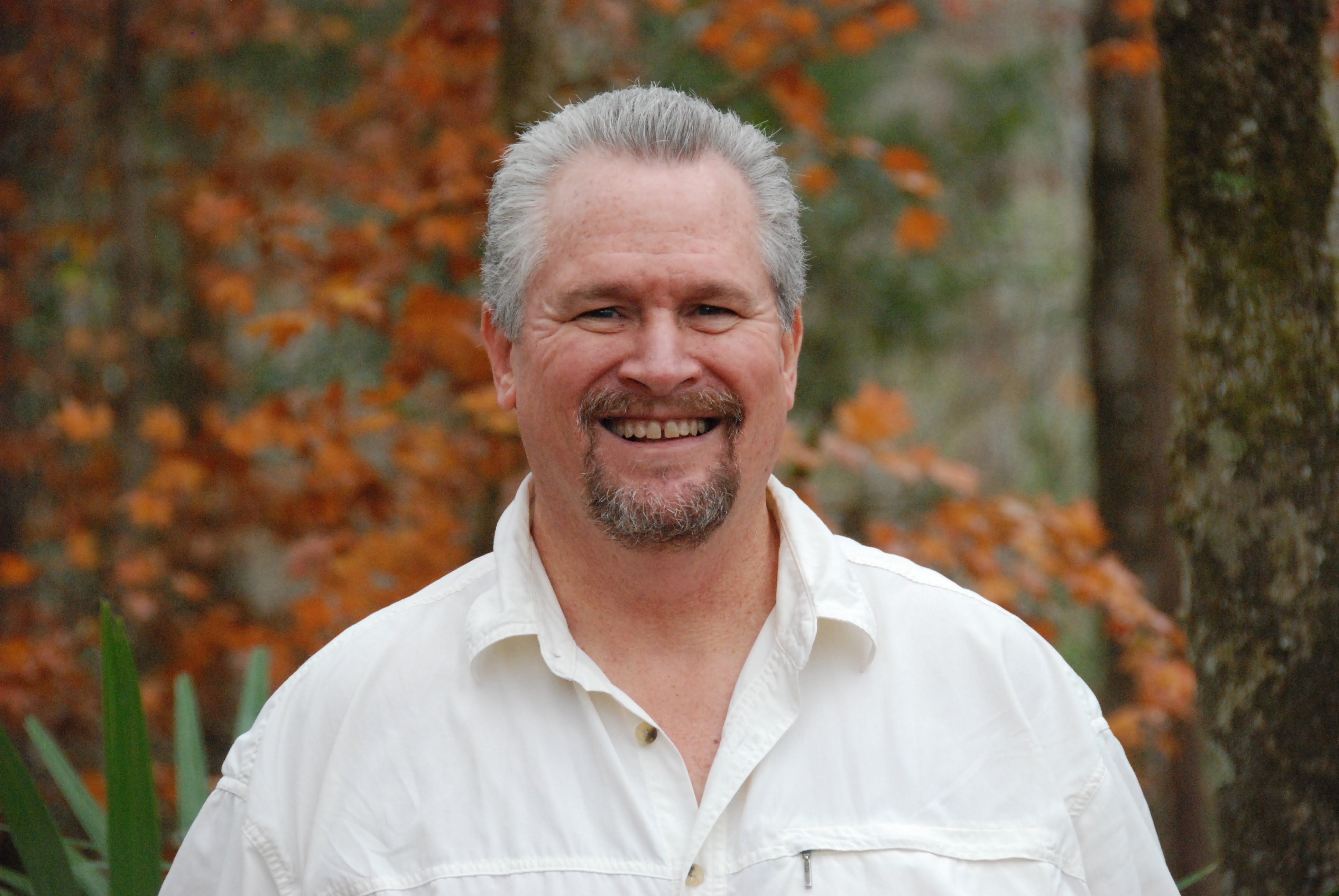 Kent L. Wimmer, AICP
Kent Wimmer is the Coordinator for the Northwest Florida Sentinel Landscape. He is also Defenders of Wildlife's Senior Northwest Florida Representative advocating for protecting landscapes and wildlife habitats. Kent has been involved in planning, advocating, and protecting greenways and conservation lands in Florida for over 30 years with federal, state, and local agencies and non-governmental organizations. He is a member of the American Institute of Certified Planners, and he earned a M.S. in Environmental Planning from Florida State University and a B.S. in Natural Resources from Ball State University.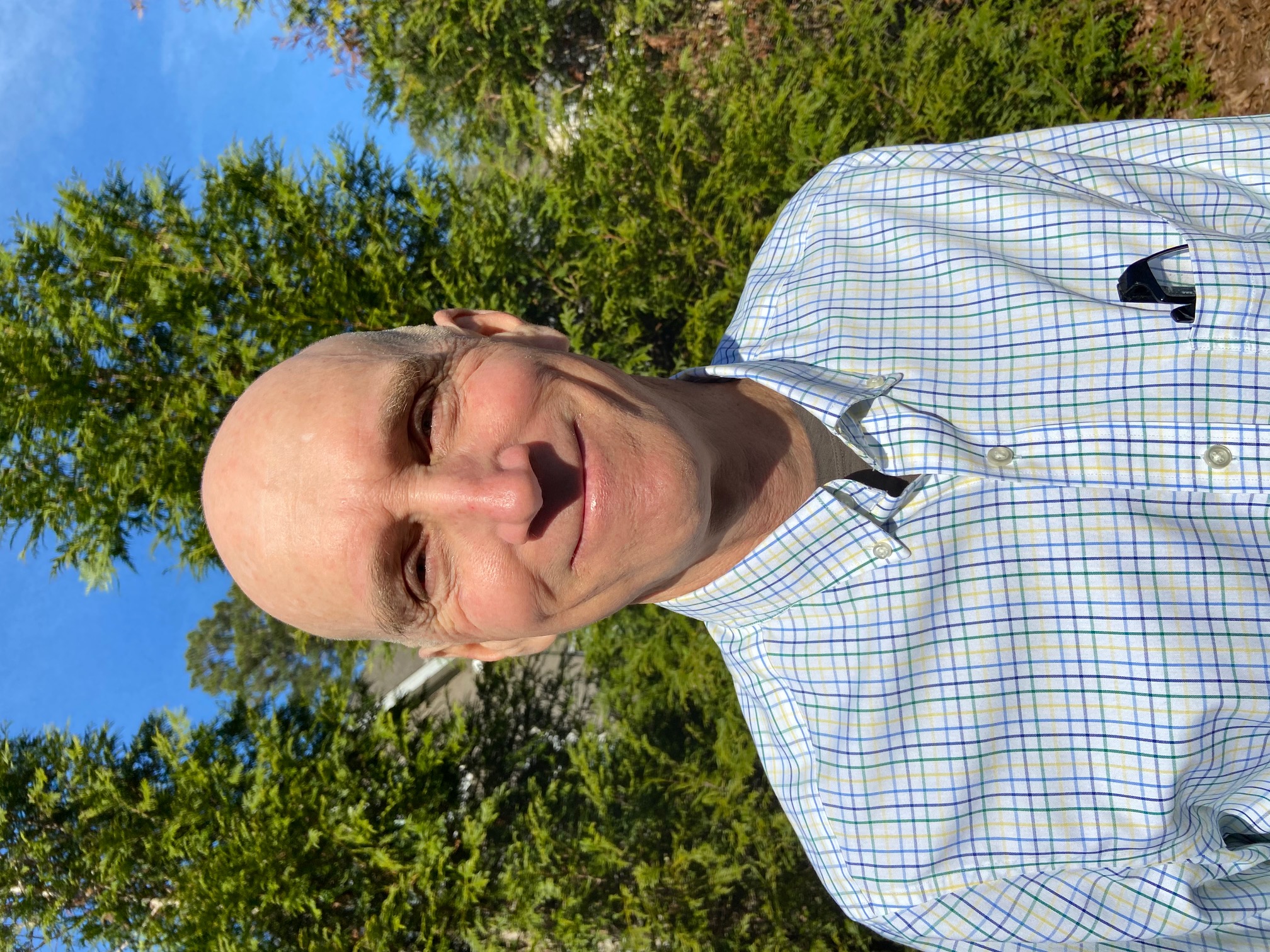 David Wolfe
dwolfe-consultant@defenders.org
David Wolfe is the Private Lands Stewardship Coordinator for the Northwest Florida Sentinel Landscape. He received a Master's degree in Ecology from the University of Georgia in 1992 and then worked for 28 years in the non-profit conservation sector, first with The Nature Conservancy and then with Environmental Defense Fund. David has vast experience working with public and private landowners, scientists, and diverse stakeholders to design and implement programs to restore, conserve, manage, and monitor habitats for at-risk species. He has worked extensively with regulatory assurance, financial incentive, and market-based programs for species recovery. He is excited to put this experience, as well as recent knowledge he has gained in systems thinking and social science, to work in achieving ambitious private lands goals in the Northwest Florida Sentinel Landscape.
"The Northwest Florida Sentinel Landscape is a major victory for Florida's vibrant biodiversity as well as our armed forces. We are proud to work with so many great agencies and organizations on this project and hope this Sentinel Landscape will serve as a model for many more to come."